by John McLeod
It was on the second night when they came. Three riders, with white sacks over their heads to protect their identity, rode down the steep trail from the high country. The meeting was secret and held in the mountains adjacent to the village of Gallinas at the base of the ridges along the Rio Gallinas. It was 1890 and Las Gorras Blancas, the White Caps, were there to convince others of the need to resist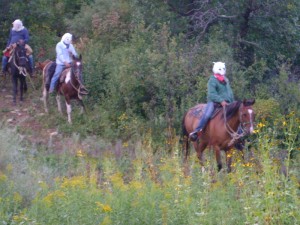 the break up of the Commons, land that had been guaranteed under the Treaty of Guadalupe Hildago in 1848. Membership in the highly secretive movement grew to over 1,500.
Sixty students from Rio Gallinas Charter School's fifth through eighth grades of Rio Gallinas School initiated its fall immersion experience by reenacting an important local story of highly organized resistance to land thievery that took place in our region in the late 1800's.
"When I was accused of being a member of the Gorras Blancas, I felt surprised and wanted to defend myself," said eighth grader Cisco Cordova, " I think I would definitely have fought the break up of the Commons if I had been alive then."
Used as a case study for investigations of nonviolent resistance to injustice, the historical play acting leads into the school's expedition titled Choose Your Weapon: Stories of Nonviolent Struggles.
Aerie Maymudes, sixth grade teacher added, "Our fifth and sixth grade students will devote much of our fall studies to research three brothers in the Herrera family of San Geronimo who led the resistance through both illegal and political means. Although the numbers of armed Las Gorras Blancas was in the hundreds, their choice of weapon to fight the stealing of land was limited primarily to destruction of the fences that were cutting off the community's lifeblood, the Commons. We will be searching for any stories or artifacts of Las Gorras Blancas activities."
Meanwhile, the 7th and 8th graders will be teaming with United World College students and the Bartos Institute for the Constructive Engagement of Conflict to collect stories of nonviolent struggles from around the world. These stories will be highlighted through the development of an Encyclopedia of Nonviolent Weaponry.
"The emphasis of this expedition is to expose our students, the United World College students and the community to the power and methodologies of nonviolent resistance worldwide," said John McLeod, 7th grade teacher. "We are currently planning a regional conference on Martin Luther King's Day in January to honor and celebrate the historical and contemporary uses of nonviolent action in conflict situations."
The student's work is being developed in association with Dr. Gene Sharp of the Albert Einstein Institute. With close to two hundred strategies identified, the institute is dedicated to the research and education of the history, power, and methodologies of nonviolent struggle. The stories collected from this expedition will be understood within the larger framework of Sharp's work.
Rio Gallinas Charter School is a public first through eighth grade with an emphasis upon Arts and Ecology. As one of one hundred and sixty Expeditionary Learning schools in the United States and Puerto Rico, Rio Gallinas structures their curriculum around long-term thematic investigations. Other topics this fall are Horses as Service Animals and Learning From Chimps. This is the school's sixth year.