Tuesday, August twenty-fourth, 2010
Hello all!
Greetings from I-25 in Wyoming. We camped last night at Glendo State Park, a spacious place beside a reservoir, where we ate a lovely meal provided by Ado Lujan, Maricela's mom, owner of Estella's. It was so great to simply heat up what was already pre-cooked for us, without worrying too much our first night! Chicken and pasta salad! We went on an evening walk as the moon rose and the sun set. We all took time to be silent and write for about fifteen minutes and afterward, some students shared their thoughts with the rest of the group. We were all quiet and in our tents at about 9:30 PM and we snuggled down into our sleeping bags for the night
This morning, we rose to greet a gorgeous morning of sunny skies and crisp, fresh air at about 6:00 AM. Everyone soon began break down their camping spots, stowing away sleeping bags and tents for later. A student/staff team cooked the potatoes and eggs for breakfast burritos and we all ate until we were satisfied. After breakfast, we all did a math lesson and before boarding the bus, Eliza McLeod led us in a fun movement game called Button Factory to get our blood pumping.
We planned on going to the historic battle site of Little Big Horn, but an unfortunate incident prevented us from getting there. Two tires on our chuck wagon, driven by Chris Ruge, at two different times, went flat. The visit to Little Big Horn would have taken too long and we would not have made it to our next camping destination, Kings Hill, by dark. So it was another long day on the bus, but we are keeping our positive mental attitude! Passed many oil rigs and giant power plants. Tomorrow we will be in Heart Butte and there will be more news!
Until tomorrow,
Corrine and John
---
Wednesday August twenty-fifth, 2010
Arrived at dusk to our camp site. Two deer romping where our tents would be. Tents up and fire warmed last night's chicken and cold tortillas. Cool morning in ponderosa meadow. Warming hot oatmeal got us in gear as we pushed to get on the road to meet Heart Butte deadline of 1:00. Landscape was what appeared to be giant wheat fields with Dune looking giant machines creating clouds of dust as they gathered in our nation's food staff.
We met Frosty Boss Ribs, our friend from Heart Butte School, and we got a tour of their elementary and high schools–both of which are in the same building. We ate lunch and set out on the road for Browning, MT, en route to the Plains Indian Museum. Every student drew at least one item in detail and brought historic and cultural facts to the campfire later that night.
After the museum, Frosty escorted our caravan to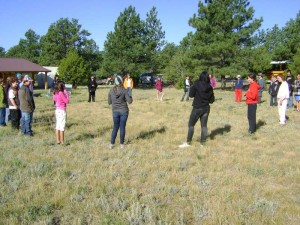 the Chewing Black Bones campground.  Unbelievable. You have to see it. You will, when you look at our pictures. This will be our home for the next four nights. We have tons of flat land to play on, a cold glacier lake to swim in, and hot showers when we want them.
Until tomorrow,
Corrine and John
---
Thursday, August twenty-sixth, 2010
This morning, we began the morning by writing New Mexico post cards to our friends from Heart Butte.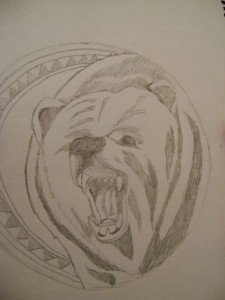 They met us at our campground with breakfast and lunch bags in hand at about 9 AM and we handed them our hand-written notes. We had an introduction circle and we split up into our two busses to mingle and reacquaint ourselves. We drove to Logan's Pass inside Glacier National Park to eat lunch and hike. Our hike up Hidden Lake Nature Trail was about 1.5 miles through the beautiful mountain vistas. Mountain goats were along the trail almost close enough to touch and big-horn sheep were grazing in a herd below us when we reached the summit. The lake below was huge and greenish in hue. We would have loved to hike down to the lake but it was a very steep incline and time did not allow for such an extensive trek. Back at camp, some of us swam in the cool water and we met a group of Hutterite youth picking huckleberries and having a swim. After our long day of physical activity, we ate a delicious dinner and climbed in our tents early to avoid getting wet from the slight sprinkling rain. There was a little thunder, a little lightning, but we all slept soundly.
Until tomorrow,
Corrine and John
---
Friday, August twenty-seventh, 2010
We woke this morning to a chill in the air. Today we needed all of our layers to begin the day. We drove to meet Frosty and her crew in Browning and headed into the park. Our second day in Glacier National Park began at Running Eagle Falls, formerly known as Trick Falls. Again, we wer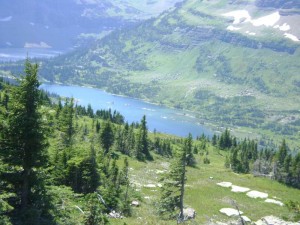 e with our friends from Heart Butte, climbing the cliffs around the falls. Chris Cudia, Lucas's dad and our expert scientist, was with us to help us understand glaciers and how the landscape we were walking in and around was formed. We challenged Heart Butte School to a rematch of their native gambling game with the "bones." One team hides the bones and the other guesses which hands the plain white bones are in. Hand signals are used to guess. For every correct guess, the team earns a painted stick. When all the sticks are on one side, the game is over. Last time, at Story Ranch, they won, no contest. Of course, we had never played before. This time we gave them a little more of a challenge and the result is still disputed–did we win or lose?
After the game, we went to Two Medicine Lake where we all boarded a ferry. From the boat, we saw a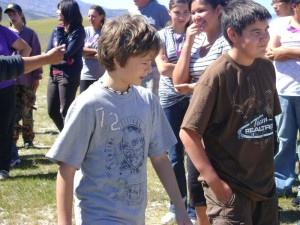 black bear cub romping around on the lake shore! We docked at the other side of Two Medicine Lake and walked the nature trail to more glorious waterfalls. At the water's edge, some of us looked under rocks in the water to find what was living beneath. We found the larvae of Caddis Flies, May Flies and Stone Flies. Chris told us that those species were signs of a very healthy ecosystem because some of them, namely Stone Flies, cannot survive in even the smallest amounts of pollution. Those who weren't examining the animal life in the water hiked up to the top of the falls. We saw where those falls originated and split into two. When we arrived at the dock again, our ferry was arriving and we headed back to the bus. Dinner will be spaghetti and we will write by the fire side and tomorrow will begin a bit easier with a less stringent schedule.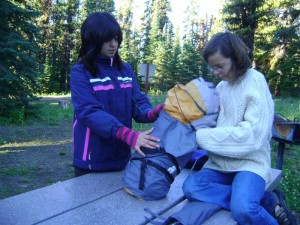 Until tomorrow,
Corrine and John
---
Saturday, August twenty-eighth 2010
This morning the air was cool, but the sun was shining so we knew it would warm up. We started the day slowly today and some of us slept in. The breakfast crew picked wild huckleberries and we ate a breakfast of scrumptious berry pancakes! We took our time to get ready and at about noon we loaded the bus and took a short drive–to Canada!! The Canadian border patrol was kind and let us walk to take pictures on the Canadian side. They said we did not pose a security threat, and one officer joked with her fellow officers in her walkie-talkie that we all wanted to claim "refugee status." After our group photos we took another short drive to the Swift Current River to study water quality with Chris. This time we all saw aquatic critters that had been caught in a net by Lucas and his dad. We had lunch by the river and went back to camp for an afternoon of reading and playing and packing. The rain was light all afternoon and evening, but we had our rain gear and tarps to cook and eat under, so we all stayed dry. S'mores after dinner were a delight and then we brushed our teeth before we had a…TALENT SHOW!! There is so much talent in this group! We saw comedy, singing, poetry and dance. So much fun! We were lulled to sleep by raindrops on our tent tops.
Until tomorrow,
Corrine and John
---
Sunday, August twenty-ninth 2010
This rainy weather did not make it easy or comfortable to pack up a campsite, but we did great! Everyone pitched in and despite cold hands and wet knees, we were on the road by 8 AM. We are on our way to Yellowstone. It will be a long day of travel on the bus and the weather may be chilly and damp. We shall see what we shall see.
Until later,
Corrine and John
---
Tuesday, August thirty-first 2010
Yesterday, Monday, we slept in a bit before heading out to Old Faithful and a geyser field where it smelled slightly of boiling eggs and the steam rolled all around us. We arrived within ten minutes of Old Faithful's eruption and then walked the loops to examine other types of geysers in the area. We learned that there are only 1000 geysers on the entire planet and Yellowstone has over half of them! We walked around inside the Old Faithful Inn which is a hotel, restaurant and gift shop built at the turn of the century, completed in 1904. The woodwork inside is absolutely incredible. We saw 4 otters swimming in Yellowstone Lake. Traffic stops for herds of bison and elk. We have seen mule deer, too. Still no bears!! Even though it was cold and rainy back at camp, we told stories by the campfire, ate hot stew for dinner and slept (mostly) warm.
This morning, Tuesday, we woke to even chillier conditions. There was frost. Our tents were snowy before we left camp. We bundled into the warm bus and set off to the north. We visited a tree petrified by mudslides through volcanic activity. We ate pizza and homemade ice cream in Gardiner, MT, north of the park at a restaurant called Outlaw Pizza. We just came from where the Boiling River meets the Gardiner River–it is a mixture of very hot 180 degree water with the 50 degree water of the Gardiner River. We basked there under sunny skies (yes, the weather HAS changed!) for over an hour. We are stopping here to send this email before heading back to camp for dinner and relaxation. We apologize for not sending emails earlier, but there has not been a single opportunity.
We will be home soon!
Corrine and John
---
Rio Gallinas School for Ecology and the Arts
Students Take Learning On the Road
It was twelve days, thirty-three hundred miles, two countries, three National Parks, and a visit with their pen pals at the Blackfoot reservation in Heart Butte, Montana.
For twenty-five seventh and eighth grade students at Rio Gallinas School for Ecology and the Arts, an on the road trip was a remarkable way to start the new school year. "I've had one of the greatest times of my life, and I learned a lot," wrote seventh grader Lexi Perea-Angles, "Along the way we created really strong bonds."
The previous summer, John McLeod, 7th grade teacher at Rio Gallinas School was contacted by a group called Bridging which was established to develop writing relationships between students in two schools, Heart Butte in Montana and Rio Gallinas,  In January of 2010, the exchange of letters began.  In April, eight 'student ambassadors' and two staff members from Heart Butte paid a weeklong visit to Las Vegas that culminated in a joint trip to the Gathering of Nations Pow Wow in Albuquerque.  As they departed, the Blackfeet students extended an invitation to visit them in Montana.
Over the summer, students, staff and family members raised funds for the trip through selling raffle tickets, writing grants and approaching local individuals, businesses and organizations.  "Thanks to generous support by First Community Bank, the Eagles, the Kiwanis, Estella's, Rio Gallinas parents and students and others, the needed funds for the trip were raised," reported parent and Amigos de Rio Gallinas organizer Anna Ortega.
Meeting and getting to know Blackfeet pen pals had been a central reason for the trip, as well as having a chance for a rematch in a traditional Native gambling game using bones and sticks.  Although defeated in April on home ground, the Rio Gallinas students were eager to face their friends.  With cold winds blowing, along a lakefront, and below a magnificent mountain range in Glacier National Park, Rio Gallinas School challenged their archrivals, the Blackfeet.  Although the game was close, it finally ended with the Blackfeet edging out their visitors from down south.
"You would be hard pressed to develop a more rich earth science and cross cultural experience than this trip," stated 7th grade teacher John McLeod, " It was one of the most profound educational experience I have had the pleasure to participate in."
As an Expeditionary Learning School, Rio Gallinas prides itself in offering compelling, real world experiences that fold in hands-on experiences with academic learning.  Water quality scientist for New Mexico Environment Department, Chris Cudia, caught up with the group at the Blackfeet tribe's Chewing Black Bones Campground adjacent to Glacier National Park.  He recently said, "Teaching science in the outdoor laboratory is real teaching where science really happens.  It is the most fulfilling place to learn for teacher and student."
With Canada only miles away, the group unanimously voted to visit their northern neighbors.  Although the excursion was but a stroll across the border, the students experienced the goodwill of the Canadian border officials who generously allowed the international foray.
Leaving the Blackfeet friends at Two Medicine Lakes, after watching a teen black bear romp along the shoreline, the group headed south to the second national park, Yellowstone.  It was the geysers that most caught the imagination of the students.  "Did you know that half of the world's geysers are in Yellowstone?" asked 8th grade student Jaibo Bailey, "That's five hundred of them."
While camping in Yellowstone National Park, students woke to find some tent zippers frozen and snow gathering on the ground.  Southern entrances to the park were closed due to the ice and snowstorm that had blanketed the region.  Eighth grader Kayleen Bessman recalled, " I woke up to the sound of raindrops and snow clumps.  It was pretty cold."
"Moving students out of their comfort zone is one of the tenets of Expeditionary Learning. It has its application on not only wilderness trips but in the classroom setting where we push students to stretch their skills and minds," said eighth grade teacher, Corrine Sieser.
While visiting Rocky Mountain National Park, students were greeted with two bear cubs frolicking in the woods.  "The wildlife we saw was unbelievable. I loved the land there," said seventh grader Daniel Vigil.
" I support this approach to education because I see that when you mix knowledge with experience something great grows out of that.  I see students wise beyond their years," continued Chris Cudia.
The upper school's current expedition is titled  'Crafting a Renaissance'.  In looking 500 years in the past, they are studying the role arts and sciences played in moving Europe out of their Dark Ages.
The students hope to raise sufficient funds from sales of handmade products from their guilds, and perhaps another raffle, to fund a visit to a national Renaissance Fair in Arizona in March.  Rio Gallinas School for Ecology and the Arts, in its seventh year, is a free public charter school serving grades first-eighth. For further information you may call 505-454-8687.