Education is not filling a bucket, but lighting a fire…
At Rio Gallinas School of Ecology and the Arts when you walk into our school or our classrooms you will feel a happy, welcoming atmosphere and you will participate in a purposeful educational environment.  Río Gallinas is a small first grade through  eighth grade Expeditionary and Experiential learning charter school in the West Las Vegas School District in Las Vegas, New Mexico.  We are a public, tuition-free charter school, open to all residents of Las Vegas and New Mexico.
Enrollment is now open for grades 1-8 for the 2017-2018 school year, but we are filling up quickly so please contact the school for applications or to be placed on the waiting list. Río Gallinas does not discriminate on the basis of race, religion, national origin, color, sex, age, veteran status, or disability.
——————————-
Under new direction, our school has raised student test scores on the average of seventeen percentage points. Rio Gallinas School for Ecology and the Arts is a FREE 1st – 8th grade charter school in Las Vegas that provides students an education grounded on the principles of Expeditionary and Experiential Learning.
Students don't just sit in the classroom and passively learn, students take an active role in their education with hands on projects and experiences. Our teaching philosophy uses both the expeditionary and experiential learning models. In a nutshell, your child learns by doing and going on expeditions and experiencing life experiences first hand instead of just reading about them in a book.
With Expeditionary Learning, if the topic for an entire class is water conservation, during science the teacher may teach the students how to perform water quality tests or look into the microscope and see what's in the water, while in social studies the teacher helps students learn about ways water sustains civilizations, while in English the teacher guides them through reading and writing assignments related to water.
With Experiential Learning (learning through experience), we take students outside of the classroom. Field trips are basically a weekly occurrence. Instead of reading about the Santa Fe Trail they go to the Santa Fe Trail. Instead of listening to a lecture about insects they go to the Bug Museum in Santa Fe where they get to see a collection of over 150 species of insects to include, spiders, scorpions, millipedes, reptiles, amphibians and fish. Students get to touch and pet the "friendlier" bugs. Our students don't just read about it in a book, they experience it by doing it. This is the ultimate in hands-on-learning.
Ben Franklin stated,
"Tell me and I will forget,
Teach me and I will remember,
Involve me and I will Learn."
Rio Gallinas is on its tenth year and is well known for providing a unique educational opportunity where students are scientists, artists, and activists addressing community issues in hopes of finding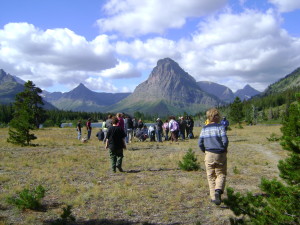 solutions.
Rio Gallinas School of Ecology and the Arts is named after the local river which flows through the town and touches on the most important aspects of our philosophy – place-based and outdoor education, community involvement, and local history. The school culture makes education not just a priority, but a fun, integral part of everyday life by incorporating the people and activities familiar to our students while broadening their perspectives on the ever-encroaching global community at our doorsteps.
Rio Gallinas School of Ecology and the Arts serves a culturally diverse population of first through 8th grade students in the Las Vegas and surrounding areas by providing a culture of academic excellence, service, and caring, and a safe, open, and creative environment which respects each student's abilities and honors each student's interests. Rio Gallinas addresses these needs by providing smaller class sizes; incorporating Expeditionary Learning for thematic, project-based service-learning experiences; stressing ecological education;  enhancing community involvement, and building meaningful ties with partners like the United World College, Highlands University, Luna Community College, West Las Vegas High School's MESA Program, and local organizations like the Foster Grandparent Program.  The school serves up to 125 children in first through eighth grade.
RGS is a community school that invites and inspires community and family participation. Its students contribute to the community as active citizens and participants. Parents and guardians are considered equal partners in the education of their children. Rio Gallinas School sees families as valuable resources, competent, and essential to their children's educational experiences. Parents and guardians are welcomed and encouraged to participate in classroom and field-trip activities.
Join us where  learning is a wonderful adventure!
Two local radio broadcasts about our school:
Expeditionary learning at Río Gallinas School